According to the Five Senses Theory by industrial designer Jinsop Lee, the more pleasant an experience is for sight, sound, touch, smell, and taste, the more likely a person is to choose one experience over another. This theory is also easily applied to how your clients perceive your showroom design center. Whether you need inspiration for a kitchen remodeling showroom or a bathroom design showroom, we have the tips you need to provide the best showroom experience for your customers.
1. Sight: Use lighting techniques for the most visual appeal
Bathroom design center showroom
Color temperatures for showroom lighting
Lighting plays a crucial role in how a showroom and the products within a showroom are perceived by clients. For spaces like living rooms and bedrooms, choosing warm white lighting will convey a feeling of coziness and warmth. These warmer color temperatures also enhance the look of fabrics and other textures in the space, making your showroom design feel more inviting. If you are creating a bathroom or kitchen design center, opt for soft white lighting. Cooler color temperatures for your showroom lighting enhance the perception of cleanliness in these spaces and connect to the task-orient nature of these rooms.
Lighting placement & design fixtures
Not only is the lighting important, but the placement and selection of lighting fixtures in the space can set the tone for how your customers visualize your products and showroom design. If your space includes cabinetry, consider how different types of cabinetry could benefit aesthetically from in-cabinet lighting, under-cabinet lighting, or above-cabinet lighting. If you have a wall display of design and textile swatches, consider a subtle spotlight to guide your clients' focus to that area. Your selection of lighting fixtures can also help your customers envision your designs and products working within their style preferences. So, depending on your brand and target client, be intentional about whether you utilize unique and abstract lighting fixtures in your showroom or more on-trend, modern lighting fixtures.
2. Sound: Create optimal acoustics in your design space
Image via mixinteriors.com, Autex showroom 
Music selection based on room type
Incorporating music in your showroom or design center can provide multiple benefits. Of course, playing different genres of music can create different "vibes" within a space, so consider the energy of your environment when selecting a playlist. For example, a kitchen design center may play upbeat music to mimic the high-energy activities in a kitchen, while a bathroom design center may use a calming playlist to convey an aspirational spa-like feel. Aside from the music itself, incorporating music into a showroom also allows you to highlight any audio technology features within your interior design center. From whole-house audio systems to more niche applications like range hoods with built-in speakers, appealing to a client's sense of sound will make their experience in your showroom a memorable one.
Accents & decor for better acoustics 
When planning out an interior design, most designers and architects understand the importance of acoustics within a space. This is no different when creating a design center or showroom. From industrial rafters to multidimensional walls, finding ways to help soften the sound or "noise pollution" within your space can also add a lot of visual interest. Of course, less permanent solutions like incorporating tasteful wall decor, drapery, or furniture can also easily absorb noise with a showroom. You will also want to consider any sounds created by the products used in your interior design. Ensuring that cabinet and door hinges are not squeaking or that your space uses soft-close drawers can create a high-end experience for your clients.
3. Touch: Build the best hands-on experience for your design center
Docking Drawer Mockup outlet in a showroom design center
Showstopping showroom products
There are many ways to make your showroom an interactive experience. Including features in your design that demonstrate simple solutions for everyday challenges can make a huge impact on your clients. And, the best part, is it doesn't have to be an expensive addition to your showroom. For example, using a mockup product, like this showroom mockup outlet from Docking Drawer, allows your clients to touch unique products within your space without you incurring the full cost of purchasing the actual product for installation. Incorporating tangible, useful features will help your clients better connect with your showroom's interior design and visualize using these features in their own homes.
Interactive design swatch display
Creating a showroom with a variety of textures and textiles not only creates visual interest but also encourages visitors to interact with the space. Many design centers have a built-in interactive display that allows clients to sample or touch options for flooring, carpeting, backsplashes, fixtures, and more. This display is a key component when it comes to the sense of touch in a showroom because it allows clients to begin to envision building a space of their own. In addition to providing an interior design display, using a smooth material for countertops in a bathroom or kitchen showroom design enhances the feeling of cleanliness that most people desire in those spaces. Incorporating something as simple as unique cabinetry handles and drawer pulls or decorating a space with different furniture fabrics can create memorable impressions.
4. Smell: Choose intentional fragrances for your showroom
Image via Crate & Barrel, Interior design
Scent selection for specific rooms
The sense of smell is one of the strongest for evoking memory, so adding subtle, deliberate fragrances in your showroom can make your clients' experience more memorable. While there are many scents recommended by interior designers, there are several standard smells that work well in specific rooms. If you are creating a kitchen design center, use refreshing scents such as citrus orange or lemon to ensure your space smells clean. Soft, fresh fragrances such as linen or cotton work well for bathroom and bedroom showrooms, as do plant-based scents like sage or eucalyptus. For any interior design showroom, try not to venture into using overly seasonal or sweet fragrances, such as cinnamon, peppermint, or vanilla, as these can be too overwhelming. If you prefer a warmer fragrance for a space like a living room design, consider mild scents like bergamot or cedarwood.
Usage of scent products
No matter what scent you would like to include in your showroom space, it is important not to overwhelm the space. Products like small candles, oil diffusers, and dried plants or potpourri can add subtle smells as well as contribute to the overall visual appeal of the space. If you prefer the source of your fragrance to go unseen, try using a room spray or wall plug-in. You can also wipe down your showroom with cleaning products using your desired scent. Depending on your brand, you can even create a signature scent for your space by making a unique blend of water and essential oils. Again, keep in mind that you want to use fragrance to complement your showroom, not overpower it.
5. Taste: Add a little flavor to your showroom design center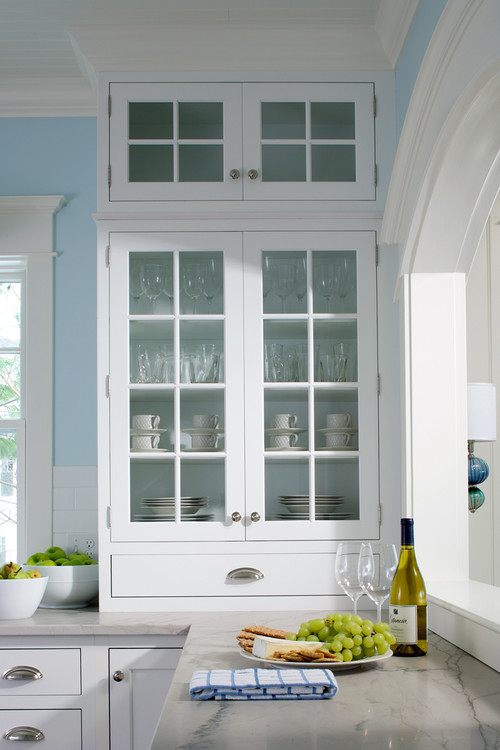 Image via houzz.com
Stage a lived-in kitchen showroom
It is no secret that staging is an important factor in creating a realistic environment for clients, and this is no different for your showroom. Of course, when it comes to appealing to a sense of taste, there is no better room than a kitchen. Some interior designers use fake foods when staging a kitchen remodel, but you can stand apart if you incorporate actual food and beverage during their visit to your showroom. Keep any food display simple, such as a tasteful fruit plate or a cheese plate, so that it does not overly distract from the room design. As also mentioned for fragrance, choose foods and beverages with scents that will not stand out in the space.
Welcome clients with refreshments
When offering food to clients within your kitchen showroom, it is important to have options that avoid common allergies such as peanuts or gluten as well as opt-out of any foods that may generate crumbs. You also want to be sure to provide your clientele with the appropriate drinkware, plates, and cutlery depending on your food and drink selection. Keep in mind your client will likely be standing or walking within the showroom, so try to select handheld foods such as finger sandwiches or grapes for a more simplified experience. Consider the time of day when choosing the type of food and beverage to provide. For example, coffee may be a great drink option for a morning visit, while wine may be a better choice for the evening. Or, if you prefer to keep it simple, provide clients with water in a clear, stylish pitcher that blends in with your interior design.
No matter what you want to highlight in your showroom design center, choosing ways to enhance your clients' experiences through all five senses will set your design and products above the rest.